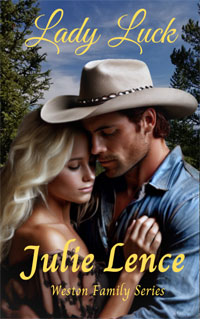 Lady Luck
Handsome, rugged cowboy Lucas Weston is living proof of the damage a woman can cause. Determined to keep another miss from running stampede over his heart, Lucas has garnered the reputation of a man who favors flirting and wild times between the sheets. When he's roped into taking to the trail to escort Missy Morgan back to her home in San Francisco, Lucas isn't too pleased until he discovers she uses her poker-playing, whiskey-swilling ways to hide her own fears. What those fears might be, he doesn't know. But he's going to find out. Drawn to her from the start, Missy represents the opportunity for the life fate cheated him seven years ago.
Missy Morgan has lived by a rigid set of rules for so long she knows no other way. Life hasn't always been kind. Fate has dealt her more losing hands than she cares to remember. But she has Lady Luck and her family. For them she'll remain strong, until a handsome cowboy enters her life and challenges the way she lives. Against her will, she's drawn to Lucas' blue eyes and honesty. Would it be so terrible if she put her trust in him? The odds say yes, but something else says no. And what about that horrible night? It's hung over her head for so long only a fool would gamble on Lucas' goodness. And she's not a fool. Or is she?

Snippets:
This is another page turner that I couldn't put down from this author. Wow, fast action, hero and heroine with emotional, wounded and relationship problems, both from traumatic events. Again, Julie Lence really knows how to write compelling and complex characters and moving action in the historical western. These two hit it off while on the trail having to overcome trust issues and relational problems they both had in life. They have to turn to each other to survive this long trip to get our heroine back to San Francisco where she lives and runs a gambling parlor. Her normal bodyguard too another job so the hero has to accompany her to make sure she makes it back okay. With no trains, they travel by stagecoach until it gets attacked and the hero wounded and then by horse together after he convalesces from a gunshot wound. After riding together on one horse he just can't take the closeness as he is heart starts to unravel years of torment and self-proclaimed isolation from women. She has been having the same issues with him. Now they get another horse so they don't have to be so close to each other.
This is just smidgeon of what is to come in this story and has a whole lot more adventure and sexual tension that you just keep turning the pages. I highly recommend this second story in the Weston series but warning there is some language and sexual situations.
5 Stars by Dorothy A. Roller
...Ms. Lence tells a fabulous story here that pulls the reader in and doesn't let go until the end. [...] the story is definitely worth the read. Great job, Ms. Lence! 4 Books, Long and Short Reviews
This is probably one of the most well written romance novels that I have read. The western and coastal scenes are vivid, the characters are so lively they seem to jump off of the page, and the storyline is quite interesting. This is one of those book where you hope all will turn out well in the end, but you do not mind seeing the struggle to get there. Why? Because you know in the end, you will get exactly what you hoped for...or even better...something you could not have imagined. 4 Cups, Shannon at Coffeetime Romance.
5 Hearts, The Romance Studio
Ms. Julie Lence was a new author to me. I haven't, therefore, had the pleasure of reading book one in this series. It did not take away from the plot in book two. It did convince me, however, that I needed to get the other and read it also. These two characters were strong individuals with scarred pasts. How they dealt with the problems made this storyline one terrific read. ... The book was full of action and there was never a dull moment. I never wanted to put the book down. The writing style of Ms. Lence was fabulous. It created a book that made me feel as if I were personally involved. ... This book by Julie Lence is one of the best I've read in a long while. I have another author to add to my must-read list. I highly recommend this book. Reviewed by Brenda Tally

Lucas carried the tray upstairs. He opened the door to Missy's room. "Missy, are you still awake? I've got co--" He ducked just in time as an object sailed toward him and shattered against the door.

"You miserable, rotten, no good, cheating boor."

He ducked again and dropped the tray as two more objects flew at him in succession.

Glancing up, he saw her arsenal consisted of tiny porcelain figures on her bureau.

"Damn you!" She hurled the last two.

He tucked his head and advanced toward her. "What the hell's got you all fired up? Emma says I'm to blame. Why?"

"You know why." She threw a small crystal bottle at him. "I heard all about you and your tryst."

"My what?" Two feet from her, he avoided her slap, grabbed her arm and twisted it behind her back. "That's enough of trying to take off my flesh."

Her response was to kick his shin.

"Ow!"

"You deserve worse. You deserve to be trussed up like a turkey where I can inflict more damage." She reached toward her dressing table for the hand-held mirror.

"Oh, no you don't." He tackled her head first onto the bed and pinned her there with his weight.

"Get off me!" She pounded her fist against his back.

"Stop it." He grabbed her arm as footsteps ran into the room.

"Missy, you all right?" Derek panted.

"She's fine," Lucas said. "Nothing I can't handle."

"Derek, get him off me." Missy smacked the back of her head against Lucas' face as she arched her neck to look at Derek.

"It's best you stay out of it," Lucas warned.

"Another hen trying to rule the roost," Derek chuckled. "Good luck, mate, but don't hurt her." He turned and left the room.

"Derek, get back here. Derek!"

"Hush, he's gone."

"Lucas, I swear if you don't get off me I'll kill you." She squirmed beneath him.

"Such threats from one as little as you."

"Don't sass me. I mean what I say, and if you think Cassandra's gonna save you, think again. I'll get her, too."

"Cassandra? What does she have to do with anything?"

"What does she have to do with anything?" Missy mimicked in a snotty voice. "Sally told me all about you and Cassandra in her work room. Need I say more or can you finish the story with another lie?"

"I ran into Cass at the dress shop. She asked for my opinion. There's nothing more to it, except for what you've conjured up."

"You lie worse than my pa."

"I'm not interested in her. You're the one I love."

"Don't you bully me into--you love me?"

He leaned close to her ear, careful not to squash her face into the mattress. "With everything I am." He nuzzled her cheek with his lips. "And before you accuse me of lying again, you should know I've never said those words to another woman."